Home
> 47 Deutschsprachiger Fremdenführer in Moskau
Deutschsprachiger Fremdenführer in Moskau. Reiseführer in Moskau für Gäste aus Deutschland
Excursions around Moscow with a tour guide.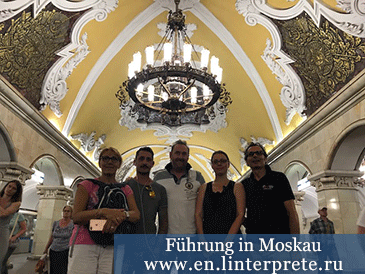 Wenn Sie nach einem deutschsprachigen Fremdenführer suchen, schreiben Sie bitte uns mittels dem Kontaktformular oder per E-Mail: luimari@mail.ru
---
If you are interested in services of a tour guide in Moscow, please get in touch with us through our "Contact us" form, WhatsApp or email.
We will be glad to help you!
Moskau ist eine der großartigen Stadt der Welt, das Schicksal von Völkern wurde in Moskau entschieden, und jede Ecke erzählt eine Geschichte. Gäste aus Deutschland finden ein faszinierendes Geschenk - Führung in Moskau auf Deutsch mit einem persönlichen Reiseführer.
Der Fremdenführer zeigt Ihnen die Hauptstadt der Russischen Föderation, der Sowjetunion, des russischen Reiches (des zaristischen Russlands) und des Großfürstentums Moskau. Moskau wurde 1147 gegründet und für fast ein Jahrtausend der Existenz in der Polle der wichtigsten Stadt des Landes hat sich nicht nur interessante aus historischer Perspektive und der Architektur Häuser und Paläste, sondern auch Tausende von Legenden und Mythen angeschafften.
Itineraries in Moscow (see more)
Eine Führung im riesigen Moskau ist ein sehr faszinierender und informativer Zeitvertreib für jeden Gast der Hauptstadt, aber für die Deutschen ist sie besonders bezaubernd, weil Russland und Deutschland historisch eng verbunden sind.
Sie können ein Format der Führung wählen: Classic Tour - zu den Wahrzeichen von Moskau aus historischer Perspektive, Kultur-Tour mit dem Schwerpunkt auf Theater und Museen, unglaubliche Parks und einzigartige architektonische Strukturen. Die Zeit steht aber nicht still, in der Stadt kommt eine Vielzahl von Kultur- und Unterhaltungseinrichtungen, einzigartige Graffiti (Straßenkunst) und so weiter auf. Die Liebhaber von Allem geheimnisvollen und unerklärlichen können einen Spaziergang durch die "Dämmriges Moskau" genießen, weil Moskau viele geheimnisvolle Orte hat.
Unsere Fremdenführer, die Touren in Moskau durchführen, kennen die Stadt ausgezeichnet (es ist unmöglich, es ganz und gar zu wissen) und sprechen Deutsch fließend. Gäste aus Deutschland erfahren viel Neues über die Hauptstadt und über Russland im Ganzen, können Fragen stellen und wollen mit Sicherheit nach Moskau wieder und wieder zurückkehren.