Home
> 31 Novodevichy Convent in Moscow
Guided tour in English around Novodevichy Convent in Moscow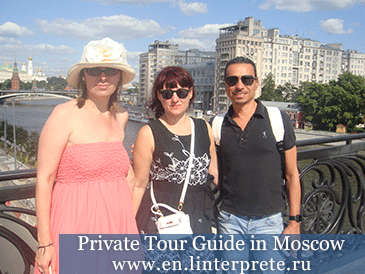 Excursion to Novodevichy Convent of Moscow with private tour guide.
If you are interested in services of a tour guide in Moscow, please get in touch with us through our "Contact us" form, WhatsApp or email.
We will be glad to help you!
Chambers of tsarina Irina Godunova with Saint Ambrose church
It's thought that after Smolenskiy cathedral in the convent there was erected complex of stone buildings including Saint Ambrose church (supposedly for some time it played a role of winter convent temple), refectory and chambers of Irina Godunova. These three buildings adjoining to each other form series of buildings with different height and width. Absence of single internal pass allows us to suppose that they were united by the system of galleries and porches forming to buildings picturesque outlines.
During different periods of history this complex of buildings had different functions. For some time it was separate closed manor inside the convent intended for the relatives of John IV – Ulyana Udelyanaya and Irina Godunova who hadn't to obey to the common requirements of the statute of the convent. In the chambers of Irina her brother Boris gave a consent on Russian throne.
In 1598 after childless tsar Fedor Ioanovich, the closest pretender to the throne was brother of tsarina Boris Godunov, actual ruler under tsar Fedor.
Waiting for the course of events connected with the elections of a new tsar, Boris Godunov went out of Kremlin to Novodevichiy convent where few weeks earlier Irina had moved (in monkhood Alexandra).
Later, patriarch Iov contributed to the election of Godunov having gathered "Zemstvo council" where the majority of representative belonged to clergy and landed gentry from which Godunov was proposed.
Supporters of Godunov forced people to beg Boris to accept the reign. Boris refused falsely but then gave his consent.
Boris Godunov having accepted the throne generously thanked the convent, carried out some reconstructions and decorations of Smolenslkiy cathedral where there was organized solemn service on the occasion of his accession to the throne and then coronation in Assumption cathedral.
The widow tsarina Irina ( nun Alexandra) have lived there for 5 years surrounded by her lay sisters and embroideresses. By the desire of reigning brother she was buried in Kremlin in female Ascension Convent.
Itineraries in Moscow (see more)
Refectory with Assumption Church (1685-1687)
To the east of Assumption cathedral on one line with it, there is a building of Refectory chamber, built in 1685-1687 with Assumption church. The chamber is intended for ordinary general meals and for the populous festive and funeral repasts for honorable devotees and noble guests.
This extensive construction is an excellent sample of Moscow decorative style of the end of 17th century. In the corners building is decorated by columns, windows are framed by beautiful platbands.
The main hall of refectory surprises by its sizes (higher than 390 m2). In those times the building was a high achievement of building technique. It is covered by huge single vault without sole pillar. The area is 323 m2 , locating on the high basement.
From the eastern side refectory is adjoined by high quadrangle of Assumption Church. Its iconostasis is performed in western style, so called "foreign writing" under the guidance of famous master of Armory chamber Carp Zolotorev and now it is in the funds of State history museum.
In 70-s of XX century in the cathedral there was installed iconostasis of the late XVII –early XVIII century from the destroyed church of Assumption on Pokrovka. On the second tier of Assumption cathedral there is side-chapel of Descent of the Holy Spirit. Here is iconostasis of XVIII century which is now exhibited in Irina's chambers.
Initially Assumption cathedral was decorated by elegant five domes, suffered from the fire in 1796 and surrounded by the open white-stone gallery disassembled due to the dilapidation in the beginning of XX century. After the restorative works by the project of Kazakov, the church acquired present-day appearance.