Home
> 48 Tours of Moscow with a guide in English
Tours of Moscow with a guide in English: only good impressions!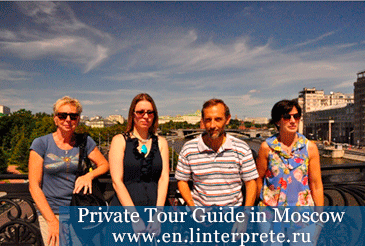 If you are interested in services of a tour guide in Moscow, please get in touch with us through our "Contact us" form, WhatsApp or email.
We will be glad to help you!
Moscow is a tourist friendly city. Lots of signs and information boards have been translated to various languages. But in spite of this, trips to the capital of Russia require a lot of preparation. Tour guide in English in Moscow is the professional who can help make you visit comfortable and interesting
What do you get, if you opt for a tour of Moscow with an English speaking guide
There are lots of way to organize sightseeing. It might be:
ready made sightseeing tours;

walking tours;

seeing a selection of sites related to a chosen theme or historic period;

thematic tours;

general tours.
During a tour of Moscow your English guide will accompany you and help you to select the most interesting places to visit. The professional will take care of the following:
tour timing (the tour is planned according to the time that the tourist has);

on-demand stops (for eating, visiting WC, buying souvenirs);

entrance tickets and rules (if photos/videos are allowed or not);

itinerary – for example, how not to run into crowds of other tourists.
Tour with a local English speaking guide in Moscow is a great way to plan a walk or a trip, to visit all open sites (museums, cultural and architectural monuments). It is easy to communicate with the guide, and you can ask any additional questions on the go. Besides, a local person can tell you lots of things that are not included even in the most complete guide books.
Itineraries in Moscow (see more)
What can be part of a Moscow tour with a guide in English
Things to do for a more interesting and enjoyable tour with an English-speaking guide in Moscow:
visit Moscow metro and study the history of stations construction;

visit ancient churches;

discover mysteries of the Soviet times;

discover present day Moscow;

visit the best viewpoints to click perfect selfies and update your Instagram
New places open in Moscow every month, museums keep updating their collections and preparing thematic tours. Contact your potential Moscow English language guide in order not to miss any important event or site, and to get a selection of the most interesting options.
Advantages of the individual approach
Mass market ready made tours is a sure way to get overwhelmed with too much information. Tourists have to adjust themselves to the guide's itinerary and manner of presenting things.
If you choose individual approach, you will get the following advantages:
flexible schedule to fit into your other Moscow agenda;

adjustable itinerary;

story about sites and history tailored to fit your interests to guarantee the best impressions!