Home
> 10 Belorusskaya station, Kievskaya (circle line) station in Moscow Metro
Excursions around Moscow Metro with a tour guide in English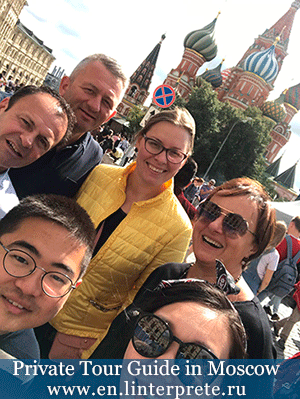 If you are interested in services of a tour guide in Moscow, please get in touch with us through our "Contact us" form, WhatsApp or email.
We will be glad to help you!
Belorusskaya
The station was opened on November 30, 1952. It was named after Belorussian railway station near which it's located.
The topic of artistic decoration is culture and national economy of Soviet Belorussia. The ceiling of the station is decorated with an ornament which represents relief, prominent and pressed in geometrical figures. During their creation architects were inspired by coffer vaults of Ancient Rome. In the center of the ceiling there are 12 panels made in a technique of Florentine mosaics which reflect the life of Belorussian people.
Once in the eastern end of the hall there was sculptural group "Soviet Belorussia". But it was removed in 1977 during the building of the second exit to the city. Composition reminded sculpture "Belorussian partisans" which decorates the passage to another metro line to present day.
Itineraries in Moscow (see more)
Kievskaya (circle line)
"Kievskaya" station of "Circle line" was opened on March 14, 1954. This station was dedicated to 300-years of reunion of Russia and Ukraine. Rich plant décor and 18 mosaic panels add station splendid view. Panels occupy the whole central part of pylons and smoothly go to the vaults. Every mosaic picture is enclosed into the luxurious molded frame with motives of Ukrainian ornaments. Panels tell about history of relationship of Russia and Ukraine from the time of Pereyaslav Rada when Zaporozhye Cossacks made a decision about the reunion with Moscow and swore an oath to Russian tsar, to the revolution of 1917 and peaceful life in the new country.
One of the pictures, "Struggle for soviet government in Ukraine" excites interest of present day passengers. Somebody discerned in its corner "a man from the future" – partisan speaking on the mobile phone and hold a notebook on his knees. Actually, it's a portable telephone set of the model TA-57, he holds a heavy receiver with both hands and the computer is in reality lid from the box with telephone apparatus.
On the end wall of the central hall there is a big panels with molded flags and mosaic portrait of Lenin in the center. Around the portrait there are lines from USSSR hymn (Union of Soviet Socialist Republics) and under the portrait there are words of Lenin: "Inviolable eternal friendship of Ukrainian and Russian people, all people of Soviet Union is a pledge of national independence and freedom, prosperity of Ukrainian nation as well as other nations of Soviet Union:.
Here one can see the following medallions:
Pushkin in Ukraine, Proclamation of Soviet power in Ukraine, folk festivals in Kiev, liberation of Kiev by Soviet Army, friendship of Russian and Ukrainian collective farmers and so on.