Home
> 18 The Assumption Cathedral in Moscow Kremlin
Tour of the Assumption Cathedral (The Cathedral of the Dormition) in Moscow Kremlin with private tour guide in English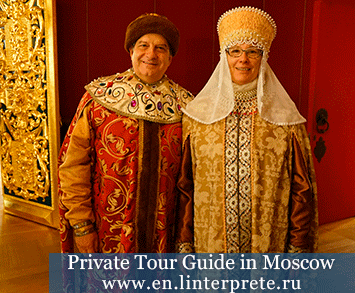 If you are interested in services of a tour guide in Moscow, please get in touch with us through our "Contact us" form, WhatsApp or email.
We will be glad to help you!
The most ancient pews
The most ancient pew was made of stone and meant for the metropolitans and patriarchs, it was constructed together with the cathedral itself in 1479. They used it for praying, when they were not participating in the Mass themselves.
Royal pew
Monument of the XVIth century. It was made personally for the tzar Ivan the Terrible in 1551. Decorated with carved linden. Carvings show scenes of a legend. According to the legend, Byzantium emperor Vladimir Monomakh handed to the dukes of Kiev the symbol of power — the gold wreath known as Monomakh's cap. This cap was used in the crowing ceremony of all the Russian tzars. It has been preserved till our days. Royal pew is guarded by jackals — some of them are kind, and others are wicked. The kind ones are licking themselves, and the wicked ones are biting. It is believed that these animals symbolize the fallen kingdoms: Babylonian, Macedonian, Roman, Persian. Above those kingdoms another kingdom would shine. The Moscow kingdom. This monument has been renovated. You see that the renovators moved the paintings on wood away from the pew itself. Also, the Soviet renovators removed all the paintings. Original it was painting with different colors and gilded. They cleaned everything and left just plain wood.
Itineraries in Moscow (see more)
Pew for the tzarine
Pew for the tzarines. Unique monument of the XVIIth century. Decorated with paintings that represent only scenes of the Nativity. Nativity of Christ, Nativity of God's mother and Nativity of John the Baptist. Because her main mission was to give birth to a healthy heir.
Tombs of the metropolitans and patriarchs
This cathedral was used not only for crowing ceremonies, but also for appointing new metropolitans and patriarchs. Also, it was the burial place of metropolitans and patriarchs. You can see the white tombstones along the walls — those are the burials. And here are the graves of metropolitans and patriarchs, many of whom were canonized, recognized saints.