Home
> 46 To see the most interesting: tours to Moscow for foreigners
To see the most interesting: tours to Moscow for foreigners
Excursions around Moscow with a tour guide in English.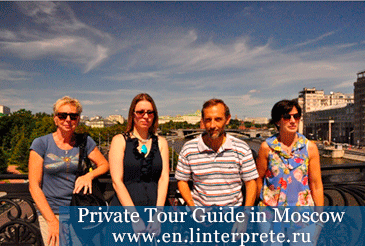 If you are interested in services of a tour guide in Moscow, please get in touch with us through our "Contact us" form, WhatsApp or email.
We will be glad to help you!
Quality tour is a tour that includes maximum of interesting objects. Conducting excursion for foreigners, the specialists will surely include the Red Square, Alexander garden and Kremlin, Tretyakov gallery, way to the Cathedral of Christ the Savior. Tourists of course visit Sparrow Hills from the viewing platform of which all the amenities open up – from the domes of the visited cathedral and Kremlin stars to the White House, Ostankino Tower and skyscrapers of Moscow City.
To allocate time reasonably, not to spend it on walks on your own and to have time to see everything, I recommend you to contact me. Write me: I will select a variant of one-day visit of the capital, as well as 2-3-4-day tour, will tell how to organize your stay program – before your arrival to Moscow. Write me by e-mail: luimari@mail.ru or send my your iquiry in the form of feedback which you will find on the site.
Itineraries in Moscow (see more)
Why you had better order individual excursions in Moscow?
Foreigners want to see the most interesting but usually they are not ready to spend more than week on visit to Moscow. As a rule, individual excursions in Moscow is the only way to refuse from the "non-obligatory" points of the program. For example, in Tretyakov gallery which is obligatory place to visit in winter, one can choose only few the most interesting halls having allocated time rationally.
One might exclude visit of Moscow Planetarium but the dinner can be organized in Patriarshiye Ponds having combined care about the health and food with the pleasant contemplation of the amenities (it's especially relevant in warm time of year).
Such individual tours in Moscow for english-speaking and italian-speaking foreigners is an excellent way to combine business purposes and interests of the clients. Trip with visiting of the most beautiful metro stations, particular places (Novodevichiy Cemetery and overview of the famous persons of Moscow), VDNKh or other places will inspire and will allow to realize plans of any kind – business, cultural, sport.
Attention to the client, taking into account of weather factors, operating schedule of the museums, cafes, restaurants, planetarium, any objects – important factor of successful excursion. A good guide-translator takes into account what particular person needs, what he is interested in. he is ready to correct the program according to the features of the client.