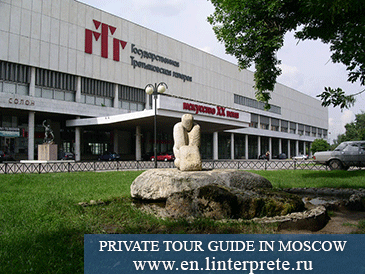 The State Tretyakov Gallery on the Crimea rampart and Muzeon park invite visitors to plunge into the world of creativity.
Large-scale expositions regularly take place in the building of Tretyakov Gallery. Unique creations of the classics are combined in thematic exhibitions: paintings, sculptures, graphics and works executed from non-standard materials, modern art.
If you visited Moscow and want to get a lot of impressions, to learn many new interesting things about its sights, you need a guide. Order guide services in the park Muzeon and Tretyakov Gallery on the Crimea rampart to get to know not only the most interesting art works but also historical monuments of socialism times. This is the only park of such a scale in Russia.
According to the decree of the Ministry of culture, exposition was divided into 2 parts: exposition of soviet times and pre-soviet times. Soviet part was located in the new building, built from 60-s to 80-s of 20th century. The building itself has a shape of large-scale rectangular with panoramas. Not only expositions take place in Tretyakovka but also master-classes of famous foreign and Russian artists of present times. Building of Tretyakov gallery has enormous space for all kinds of exhibitions – 12 thousand square meters. Today there is a constant exhibition of 20th century art in the building of Tretyakovka.
Not far from the Central House of artist on the Crimea embankment there is one of the most beautiful and favorite places of Muscovites – Muzeon park. It has combined those who love romantics, beauty and creativity. Everyone who is associated with art or wants to get inspiration is obliged to visit Muzeon.