Home
> 11 Kievskaya (radial line) station, Mayakovskaya station in Moscow Metro
Excursions around Moscow Metro with a tour guide in English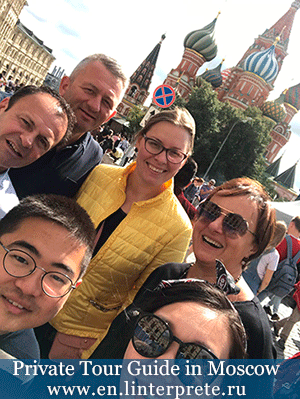 If you are interested in services of a tour guide in Moscow, please get in touch with us through our "Contact us" form, WhatsApp or email.
We will be glad to help you!
Kievskaya (radial line)
The main decoration of station "Kievskaya" is 24 enormous molded medallions with frescos on the golden background imitation ancient mosaics. They occupy vaults above the pylons of the central hall and represent pictures of happy labor and rest of people of Soviet Ukraine. Medallions are made in slightly fantastic manner which allows artistic exaggeration: for example, in the plot of "Vegetable growers" we can see depiction of beetroot and pumpkin of enormous sizes. Some women-farmers are depicted in stylized national costumes (costumes for the dance).
End wall of the central hall is decorated with fresco depicting folk festivals on the occasion of 300 years of Reunion of Ukraine and Russia.
Here one can see the following medallions:
Cotton-picking, gathering of apples, gathering of vegetables, kindergarten, Ukrainian dance, vet and cattle-breeders, power engineers, ceramists, steel makers, meeting of miners, railwaymen and so on.
Itineraries in Moscow (see more)
Mayakovskaya
The station was opened on September 11, 1938; It was named after outstanding Soviet poet – Vladimir Vladimirovich Mayakovskiy.
During Great Patronymic War station "Mayakovskaya" was used as a bomb shelter. In those times it also was a symbol of resistance of Russian nation since it was this place where on November 6, 1941 meeting on the celebration of 24th anniversary of October revolution was carried out. On this meeting General Secretary of the CPSU Central Committee I.V. Stalin made a report. In this report he addressed to all Russian people having inspired the hope on victory and bright future.
Construction of underground hall is unique. Columns are covered with relief stainless steel. Corner parts of the columns are faced with palatines of Ural stone. Height of this incrustation reaches human height. Significant part of this tone is lost nowadays and replaced by the marble or plaster of the same color.
Light-Grey marble was used for the decoration of the vestibule. The floor is paved with white marble, grey and pink granite. The vault of hall is decorated by oval niches with lamps and magnificent mosaic panels of smalt on the topic "Days and night of Soviet Country": morning, day, night and morning again. Life of the citizens of young Soviet country is depicted on all panels.
Bust of the Soviet poet Mayakovskiy appeared only after the war, later it was moved to the center of new vestibule which was opened on September 2, 2005.
Here one can see the following medallions:
Two planes, dive, peaches, signaler, paratrooper above the Spasskaya Tower, dawn and so on.