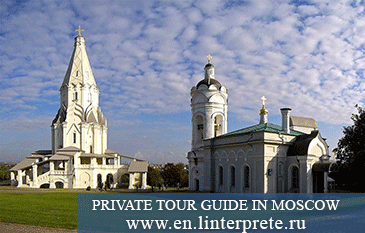 Do you like nature? Are you interested in sights being real sanctuary of Russian people? In this case, You certainly should visit Kolomenskoye – the former tsar residence situated to the south from capital center.
I will be glad to tell you about amazing park which preserved a lot of sights and historical monuments. As a professional guide, I guarantee a really captivating trip journey! Please, write me by e-mail: luimari@mail.ru
Major part of the enormous park territory is the most beautiful and untouched nature. This is the reason why tourists go there in summer and spring. There is a forest famous Golosov Ravine involved in many mystic stories, and also embankment of Moscow River with a quay, from which walking launches sail.
Among the main sights which the connoisseurs of Russian history and culture should visit, we can mark out:
Wooden palace of Alexey Mikhailovich built in XVII and renewed in 2010.

Church of the Ascension of Christ included into list of UNESCO heritage

Front gates through which foreign ambassadors drove in the past.

House of Peter I.

Church of Our Lady of Kazan and Church of Saint George

French (or Foreign) cellar and other sights.
In Kolomenskoy different interesting exhibitions, festivals and other educational and entertaining events take place at any season of the year.
Here are a lot of interesting places which are worth visiting. Contact me and we will arrange the most eventful route!