Discover Moscow with an English speaking guide!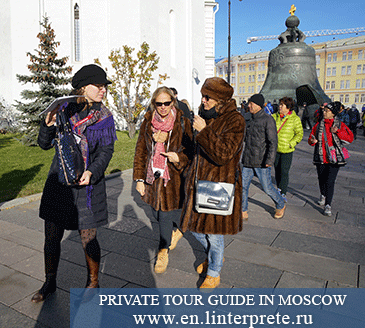 Walks in Moscow is captivating pastime. Squares, streets, monuments, cathedrals, museums of Russian capital will give you unforgettable impressions. But received impressions will be brighter if you find out about the history of the famous cultural monuments of Moscow. Use services of English-speaking guide-translator to know more about the Kremlin, Arbat, Moscow metropolitan and many other sights.
Guiding you in the halls of Tretyakov gallery, Armory, Diamond fund, a guide-translator will tell you in English about the famous exhibits of these cultural treasure-houses. You will be able to ask questions in English, communicate with a guide about the culture, art, history of Moscow. English-speaking guide to whom you will be introduced, will be an erudite expert with profound knowledge in Moscow Studies.
Ordering services of English-speaking guide in Moscow, you will be able to chose interesting route with visiting of cult sights of the city. The most popular excursion places:
Moscow Kremlin, heart of Russia;

Armory and Diamond Fund with wonderful jewelry of different epochs;

Red square and Alexander garden located near the Kremlin;

St. Basil's cathedral striking by the luxurious and expressive, multi-colored beauty;

Tverskaya square is the main trade corridor of the capital;

Arbat is the most famous street of Moscow;

Cathedral of Christ the Savior of the main Russian cathedral;

Moscow metropolitan is an example of Soviet monumental art where the halls of the stations are finished with marble and decorated with mosaics;

Novodevichiy Convent with its ancient history and legends;

Tretyakov gallery and museums, full of great works of art.
Moreover, you will have an opportunity to go on excursion with English-speaking guide-translator to the suburban pearls of Moscow. You will see the village Kolomenskoe, get introduced to amazing architecture of Naryshkin's baroque, will visit park and palace Tsaritsino… And this is only the part of excursion routes you can pass during your Moscow visit!
<<
Moscow sightseeing individual tours in English
Excursions in Moscow in English with a private guide
>>