English speaking tour guide in Moscow organize your fascinating effective and unforgettable vacation in a professional way!
Do you want to know more about Russian history, culture and traditions? Thanks to his excellent knowledge of English and wide professional experience our guide and an escort as well organize your spare time in an interesting, useful, informative way: will make you an unforgettable sightseeing tour in Moscow, will help you to get know culture and traditions of Russia and a lot of useful information and have a good time! This service of an English speaking guide is as for groups so for individuals.
City sightseeing tour in English.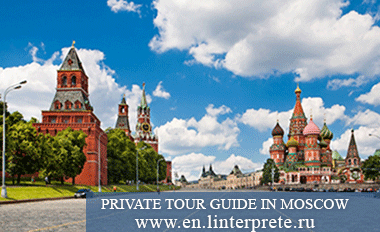 Walking tours in Moscow with a guide. With your English speaking guide you will visit famous cultural places of Moscow.
A walking tour at the centre of Moscow will stimulate great emotions. On the Red Square you can see:
majestic cathedrals;

a 13-meter-long stone platform called Lobnoe mesto, and the story of this place;

the monument to Minin and Pozharsky, which was erected to commemorate heroes liberators of Russian land during Poland intervention in 1612;

the famous Tsar Cannon and legendary story of its creation.
And not forget about a walking tour on Arbat street, the oldest street of art, artist and all creative persons. And have a look at GUM, the biggest shop centre at the heart of Moscow, and one of the biggest in Europe.
After the walking tour on the Red Square seeing the Kremlin's territory and its famous monuments with its palace buildings, monuments of architecture, gardens, etc. is a must.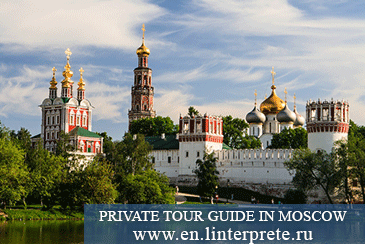 And on the Cathedral Square of Kremlin you will be attracted by a majestic ensemble of three cathedrals: Cathedral of the Dormition, Cathedral of the Archangel, and Cathedral of the Annunciation.
And, of course, being in the centre of Moscow you can't but visit Manezhnaya Square which is posted between the Alexander Garden and the Kremlin. It's a good place for taking a walk and enjoying panoramas.
English speaking tour guide in Moscow. A tour guide will make you an interesting, vivid, informative excursion in English and will tell you a lot of interesting historical facts about Moscow's great culture monuments.
You will see the Novodevichy Convent, built in 1524. It was here that by the order of Peter the Great, tsarevna Sofia was imprisoned. In our days the convent is a part of the State Historical Museum which is visited by tourists from all over the world.
With a visit to the Pushkin museum and the Tretyakov Gallery you will get to know about the culture and art of great artists, you will make a trip to the past and you will enrich your cultural level.
The Saint Basil's Cathedral and the Cathedral of Christ the Saviour, two majestic masterpiece of Russian architecture with a long history of their creation will leave you an indelibly impression.
In the city sightseeing tour with an English speaking tour guide there is also included a walking tour along Tverskaya street. In the past arriving from San Petersburg the royal aristocracy entered in the Kremlin using this street, and now it's one of the more expansive streets of the capitol: with interesting architecture, cultural centres, shops, restaurants, cafés.
Travelling in Moscow with your personal guide. You should have a walk on Lubyanka (Bolshaya Lubyanka street). It's often associated with political secrets of 20th century as the famous building of security services was in this street.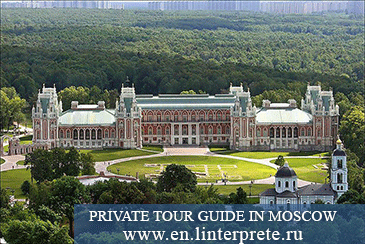 Would you like to enjoy the picturesque panoramas of Moscow? During our Moscow private tours in English you can see Moscow from a bird's eye view when you walk up to the observation platform of the Sparrow Hills which gives a good panoramic view of the city.
On the Poklonnaya Hill in the Victory Park the memorial complex was placed. Here the memory of those who died heroically during the second world war was immortalized.
"We've chosen for you a list of the most visited sightseeing of Moscow. Hundreds of tourists who come to Moscow every day visit these places."
"Personal travel guide in Moscow will organize for you a private tour in Moscow, will make your vacation unforgettable, interesting, exciting, breath-taking. Your personal English speaking guide will accompany you in your trip in Moscow."