Home
> 7 Moscow metropolitan
Sightseeing tour with an English speaking guide to metropolitan in Moscow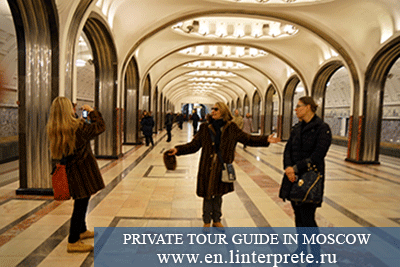 If you are interested in services of a tour guide in Moscow, please get in touch with us through our "Contact us" form, WhatsApp or email.
We will be glad to help you!
Decision about the building of Moscow subway was made in 1931. The first red line was solemnly opened on 15th of May, 1935 and it was laid from the station "Sokolniki" to the station "Park kulturi".
Moscow subway consists of 15 lines. (14 metro+1 МЦК)
Moscow subway consists of 14 lines with 238 stations, 44 of which are recognized as objects of cultural heritage. (27.03.2020)
275 (238 stations of metropoitan, 31 stations (The Moscow Central Circle (MCC), 6 станций Московского монорельса)
Itineraries in Moscow (see more)
Stations of Moscow metropolitan are performed in different architectural styles: Stalin's Empire style, modern High Tech, baroque, modern, classicism, art- décor and others.
Materials used in the construction are no less diverse: marble, granite, bronze, crystal, smalt, porcelain, labradorite, ceramic tile, Florentine mosaic and so on.
During Patronymic War the subway was used as bomb-shelter.
During air raid alert people hid not only on stations but also in tunnels. For the comfort of Muscovites there was manufactured 72 000 m2 of timber flooring in the tunnels. Thousands of trestle-beds and child beds were brought to the stations. After the signal of air raid alert the first who went down to the station were women and children up to 12 years. There were organized shops, hairdressing saloons on the stations and there was a library on Kurskaya station. During the air raids 217 children have been born in the underground. And now let's consider few stations of Moscow metropolitan in details.