If you are interested in services of a tour guide in Moscow, please get in touch with us through our "Contact us" form, WhatsApp or email.
We will be glad to help you!
Izmailovo Kremlin is a wonderful cultural center to be enjoyed both by children and adults.
Itineraries in Moscow (see more)
Here you will find impressive architecture and warm atmosphere of the authentic Russian estate! An English speaking guide will help you to figure out how this cultural and entertainment center works and feel the atmosphere of Moscow before the times of Peter the First.
At the entrance you will be welcomed by the real streltzy (historic gunmen) wearing a red uniform. It is better to start exploring the Izmailovo Kremlin by studying a detailed map at the entrance. The territory of the complex includes St.Nicolas cathedral and the House of the Russian traditional meals.
The more curious visitors are invited to explore:
- Museum of Bread
- Museum of Chocolate
- Museum of the Russian Traditional Toys
- Museum of the History of Vodka
- Museum of the Foundation of the Russian Navy.
The museums are open daily but you can always double check their opening hours with our guides beforehand.
Visitors of any age interested in hand crafts can try their hand working at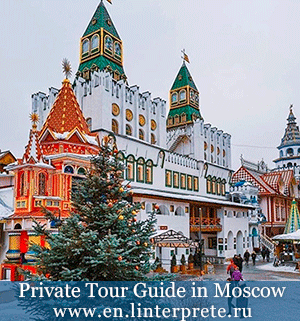 - Pottery
- Smithy
- Ginger bread shop (baking and painting gingerbread)
- Soap making shop
- Soft toy making shop
It is possible to participate in workshops too.
From August 2009 a Marriage Registration Palace is working in the complex – the Palace of Happiness where the marriages are registered.
Next to the Izmailovo Kremlin there is Vernisage, a large fair-exhibition of the souvenirs, antiques, pieces of art, traditional crafts and arts. There is also a view point from which you can see the silver-grape pond.
Visit of the Izmailovo Kremlin with an individual English speaking guide in Moscow is like a visit to an ancient Russian city of 16-17th century, where the Russian history and fairy tale has merged with the contemporary world.