If you are interested in services of a tour guide in Moscow, please get in touch with us through our "Contact us" form, WhatsApp or email.
We will be glad to help you!
We invite you for a tour of Kolomenskoye estate! This place was a big favorite of the Moscow princes. Here, at an old royal court you can try to imagine the lifestyle of a countryside tzar's residence and look at some pages of the history of our country.
Itineraries in Moscow (see more)
English speaking guide in Moscow will show you the following sights and give you interesting facts about them:
- meaning of the Back (Spasski) Gates
- location of basements of the bread and food yard of the 17th century
- location of the palace of Alexei Mikhailovich (father of Peter I)
- we will enter the church of Kazan Mother of God
- what is Announcement column
- where the mead brewery was located
- Complex of the Front Gate
Also you will see: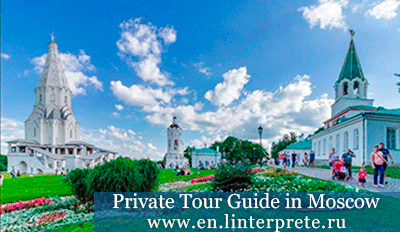 - Church of Ascension
- Church of St. George with a belfry
- Water Tower
The fantastic views that are enjoyable at any time of the year will be a nice addition to the tour. Moskva-river, ancient churches, luxurious gardens, alleys and paths...