If you are interested in services of a tour guide in Moscow, please get in touch with us through our "Contact us" form, WhatsApp or email.
We will be glad to help you!
Palace of tsar Alexey Mikhailovich in Kolomenskoye was built in the end of XVII century in the summer residence of the Russian tsars, and was restored in the beginning of the XXI century on the spot 2 km away from its original location.
Itineraries in Moscow (see more)
Palace of the tsar in Kolomenskoye was called the eighth wonder of the world, it made a striking impression with its size and decor. It was built in the traditional Russian wooden style and consisted of a number of "terems" - sections topped with unusual roofs shaped as canopies and cupolas.
During the excursion you will learn:
• Why did Alexey Mikhailovich chose Kolomenskoye as a location for his palace;
• Why did Catherine II fail to restore this palace;
• Why wasn't the palace restored on its original spot;
• How many rooms and windows did the palace have;
• Why the women's part of the palace was bigger than the men's;
• Where did Alexey Mikhailovich go after watching theater performances;
• What kind of cutlery did the tsar and his guests use;
• Who of the children and grandchildren of Alexey Mikhailovich became tsars and tsarines in future.
During the excursion you will see: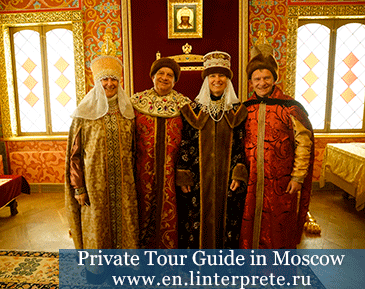 • Picturesque roofs, windows and porches of the palace;
• Tsar's throne made of sandal wood and decorated with gold, silver and precious stones;
• Mechanic lions with moving heads and shining eyes that can make roars as well;
• Collections of tsar Alexey Mikhailovich and his sons;
• Unique tile stoves of the palace; • Art works of the workers from the tsarine's shop;
• Belgium gobelins, paintings on the ceilings and walls, other beautiful interior décor of the palace;
• and other attractions of this "eighth wonder of the world".
None of the numerous original wooden palaces of the ancient Moscow were preserved, so take the opportunity and order the services of a Moscow English speaking guide who will open a door to a real fairy-tale for you.