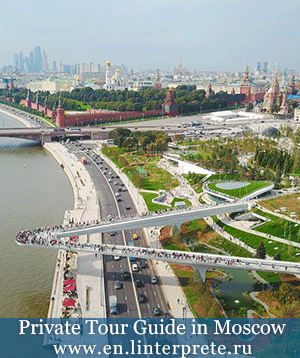 If you are interested in services of a tour guide in Moscow, please get in touch with us through our "Contact us" form, WhatsApp or email.
We will be glad to help you!
Itineraries in Moscow (see more)
Zaryadye is the first park that opened in Moscow in the last seventy years. It is unique by its organization of the landscape zone. You never get bored of walking here.
You will see:
- real mixed forest;
- steppe full of sweet scented herbs;
- picturesque flood plains with ponds;
- arctic landscapes with mosses and juniper.
Every zone has a special microclimate with appropriate temperature and humidity level.
After a stroll in the green zone you can go to the embankment, enjoy the view of the Moskva river, sit in a cosy cafe or take a boat ride. And it is a must to go to the second level of the embankment and experience the unique "Soaring Bridge". It literally floats above the river – the 70 meter structure looks very airy and light. It offers an impressive view of cathedral of Christ the Savior.
Visit the media center together with Moscow English speaking guide. It has exhibitions and interactive shows as well as movies shown in a progressive cinema hall with special effects. Concert hall with amphitheater hosts performances of leading musicians and theater actors. And if you wish to see something exotic and unusual, visit the ice cave, and learn new things about flora and fauna of the Polar regions.